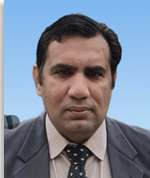 Introduction:
Dr. Muhammad Imtiaz Shafiq is an educator and researcher in the field of Biochemistry.
Currently, Dr. Muhammad Imtiaz Shafiq holds the position of Professor of Biochemistry in the School of Chemistry, where he joined in May 2023. In addition to his professorial role, he serves as the Director of the Center for Bioinformatics and Drug Design, overseeing pioneering research and development in these cutting-edge areas.
Dr. Muhammad Imtiaz Shafiq's academic journey began in 2002 when he joined the Institute of Biochemistry and Biotechnology as a Lecturer. In 2004, he broadened his horizons and became a Lecturer at the Institute of Chemistry. Over the years, he has steadily progressed in his career, assuming various roles such as Assistant Professor and Associate Professor in different departments and institutes within the University of the Punjab.
With a solid educational foundation, Dr. Shafiq's qualifications are the bedrock of his expertise. He holds an MSc in Biochemistry from the University of the Punjab, Lahore, an MPhil in Biochemistry from Quaid i Azam University, Islamabad, and a PhD in Biochemistry from the University of Leicester, UK. Moreover, he has expanded his knowledge beyond the scientific realm by earning an MBA degree from the Institute of Business Administration and an LLB from the University Law College, University of the Punjab, Lahore.
Throughout his career, Dr. Muhammad Imtiaz Shafiq has displayed a strong dedication to research and academic mentorship. His contributions to scientific literature include numerous published research papers in esteemed international impact factor journals. Furthermore, he has had the privilege of supervising students at the BS, MPhil, and PhD levels, guiding them in their research pursuits within the fields of Biochemistry, Biotechnology, and Molecular Biology.
Dr. Muhmmad Imtiaz Shafiq's research interests span a wide range of subjects, including Bioinformatics, Drug Design, Molecular Dynamics Simulation, Biotechnology Business, and Entrepreneurship. He is particularly passionate about exploring research projects related to Environmental Biotechnology, as he firmly believes in the importance of addressing pressing environmental challenges through innovative solutions.
We are honored to have Dr. Shafiq as part of the School of Chemistry and the University of the Punjab. With his expertise, we can advance scientific knowledge, foster interdisciplinary collaborations, and nurture the next generation of scholars. Let us embark on a journey of discovery, innovation, and academic excellence under his guidance.
Click here to visit my personal site.